| | |
| --- | --- |
| The most wonderful time of the year! | Monday, November 5, 2018 |
Mantels with the festive cheer
Time for your mantel to shine for the holiday season.
Next to the Christmas tree, there's nothing more iconic than the decorated mantel for the holidays.  For some, this is where their mantel gets the whole sparkle treatment, for others this could be just as daunting as the turkey dinner. 
Tips and tricks for a crowd pleasing, Pinterest worthy mantel below!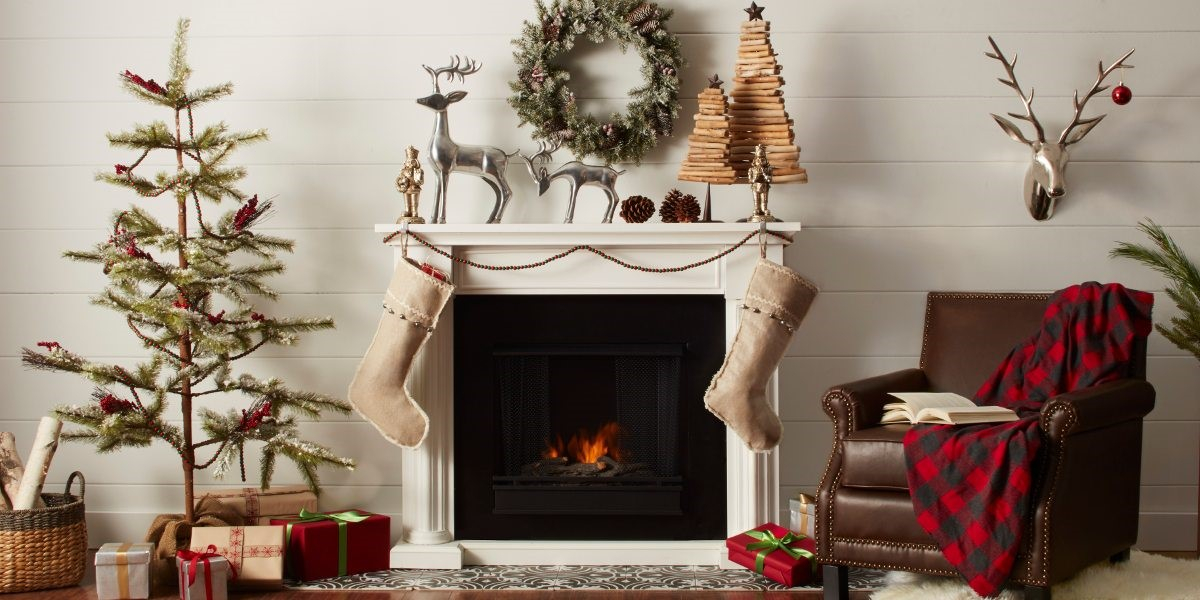 Your Christmas mantel ideas can include much more than just stockings and holly. Christmas mantel decor can range from traditional to ultra-chic and everything in between. This gives you freedom to choose a style that will match the rest of your living room. Mixing classic decor like wreaths and stockings with stylish statement pieces will turn your fireplace mantel into a winter wonderland.
Mixing classic decor like wreaths and stockings with stylish statement pieces will turn your fireplace mantel into a winter wonderland.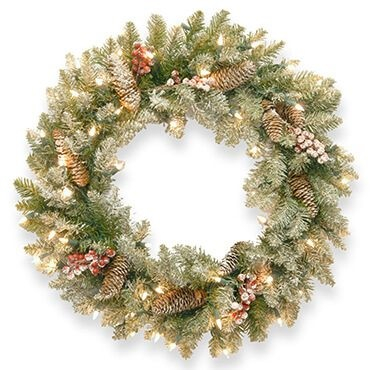 Anchor
A wreath is an essential Christmas mantel decoration. There are countless style options for Christmas wreaths, so you can achieve any look you want. Hang a plain wreath for a classic, charming look, or decorate it with colorful ornaments and lights for something more eye-catching.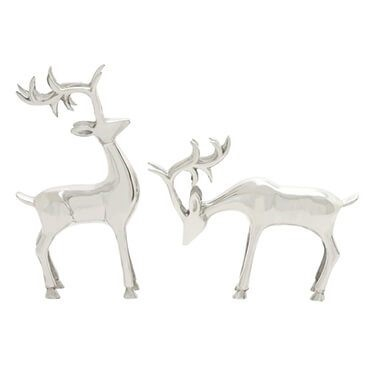 Weight
Keep your mantel from looking too busy by using a handful of decorative pieces for weight. A pair of country-style Christmas trees can provide an attractive contrast to metallic statues or candlesticks while still creating a cohesive look.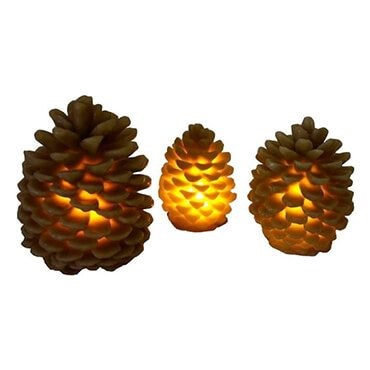 Filler
Pine cones, garland, and other natural decorations help fill empty space and add extra texture to create a perfectly accented wreath. Christmas stockings hung below the mantel are a beloved seasonal must-have. Use decorative stocking holders to fill the empty spaces on the mantel, or stick with more subtle options to let the stockings steal the show.
| | |
| --- | --- |
| Accent Stone | Monday, September 10, 2018 |
Leave no wall un-STONED!
A great design element to add to your next fireplace or renovation is stone!
We frequently use stone in our deisgns with fireplaces and mantels.  Whether a modest accent in a mantel where a fireplace needs a noncombustible barrier from a wood mantel, or a full height floor to ceiling masterpiece, stone brings so many unique features to a project.  
We have been working with RealStone Systems and ErthCoverings for some time now.  They offer a wide variety of colours and applications that suit any style.  Their natural stone adds colour, depth and texture; key elements in designing a cohesive space. 
Check out what they have for your next project and we'll design your dream!
Even without a fireplace, stone can be applied for the extra wow factor!  Get creative with a stone backsplash for a bar! Or an accent wall between built in cabinetry.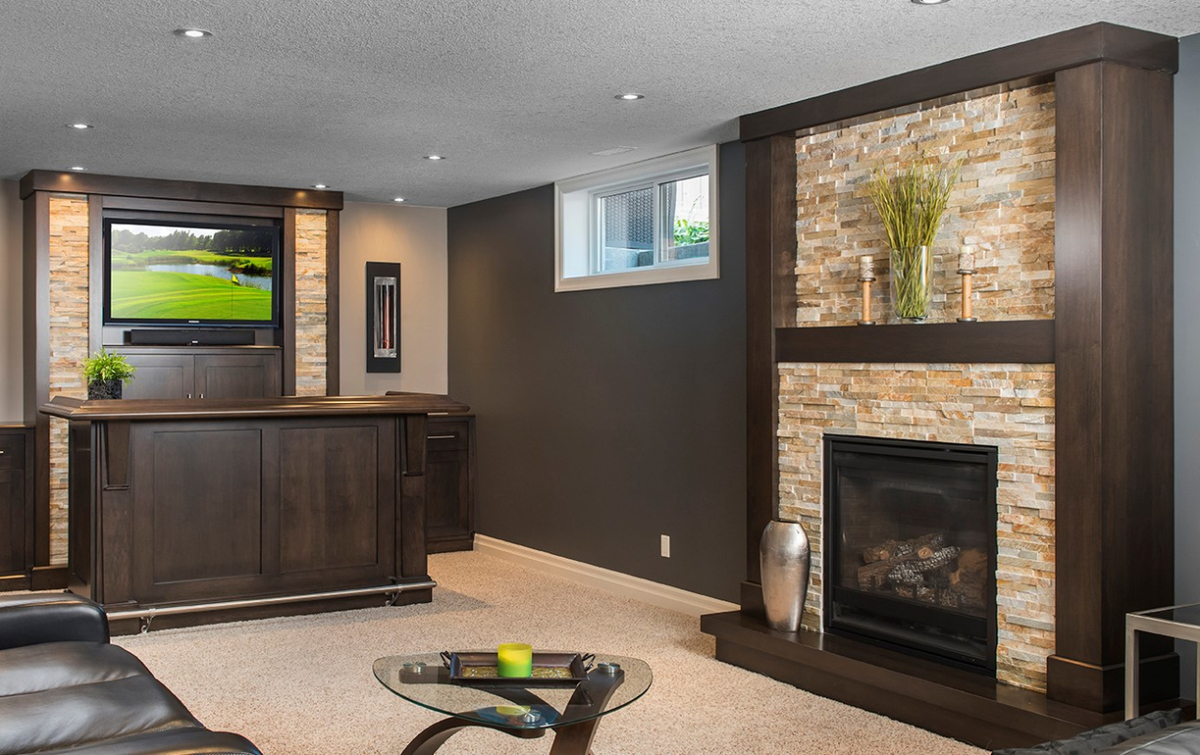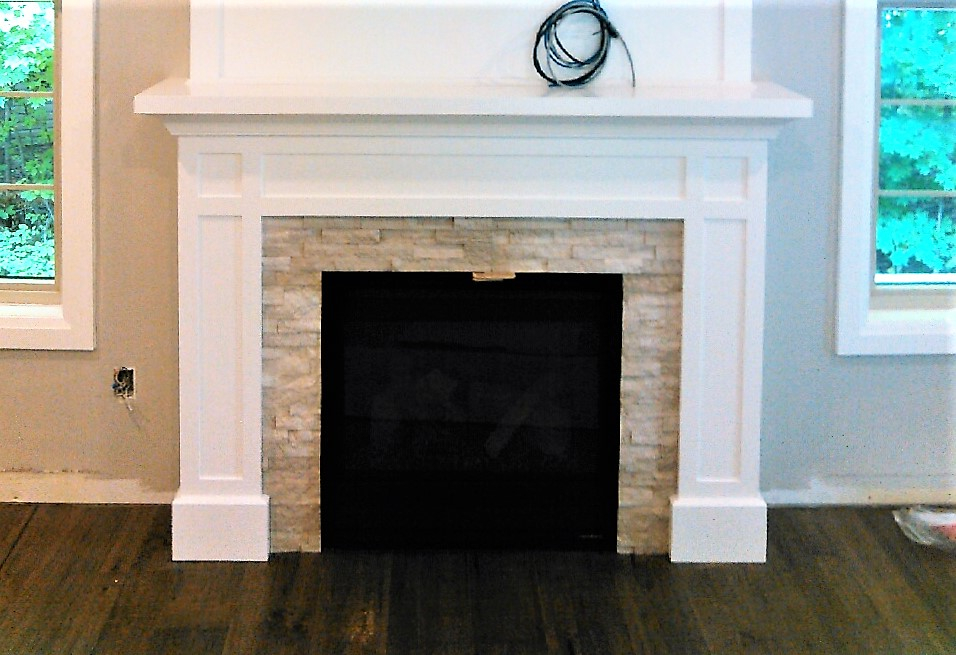 | | |
| --- | --- |
| New and Full of Features! | Monday, May 7, 2018 |
Introducing the new Heat & Glo Phoenix TureView gas fireplace.
Take a look at what all the hype is about!
BIG IMPACT
The Phoenix TrueView series gas fireplace is designed with a large glass-free view and the authentic look of a wood fireplace. Be captivated with beautiful hand-painted logs, glowing LED ember bed and bold flames.

DESIGN FLEXIBILITY
Choose either traditional brick or a modern reflective black glass interior. Safely place a TV 12" above the opening with no mantel required.
COMFORT CONTROL
Stream music or the sound of a crackling fire through optional Bluetooth® speakers for a truly immersive experience. Set the mood with bold flames and mild heat for year round enjoyment. Phoenix. The convenience of gas without the glass.
| | |
| --- | --- |
| Why Have a Gas Fireplace? | Friday, April 28, 2017 |
Don't just take our word for it!
Take a look at some great reasons why you should add a gas fireplace in your home's next renovation project!
Call us today for a quote and design consultation.
| | |
| --- | --- |
| Decorating Your Mantel | Tuesday, December 6, 2016 |
Dust off the Mantel, It's time to Decorate!
With the holiday season approaching, family gatherings and the cold weather setting in, your fireplace and mantel may become a focal point in your home.  It's time to get inspired, get creative and WOW the socks off your guests and family!
 
Starting with an inspiration picture can be the easiest way to get your project started.  There are many creative outlets that can provide traditional, modern or seasonal decorating tips.  Magazines, the Internet and store displays can be a push in the right direction.  Keeping in mind some basic design elements and principles will bring together your very own masterpiece!
Colour
Having a theme picked out for your mantel decor can help determine which colour scheme you will use.  A festive holiday theme can be traditional with reds, greens, silver and gold. Whereas a more modern take on the same theme can be more monochromatic and use a range of tints and shades of one chosen colour.
Consulting a colour wheel to see what colours compliment each other could be a great time saver and tool in any decorating project.
Shape
Try a mix of different shaped and sized objects when decorating your mantel. Incorporating rectangular, circular and squared pieces will add variety and interest.  Using too much or all of one shape will become boring or dull.  Having different heights and widths will help fill the space you are working with and help your eyes move from piece to piece more harmoniously.
Texture
The holiday season brings out the best of texture! Furs, wood, greenery and woven materials can all be used to create interest and style.  If going for a traditional holiday theme, take a walk around your neighbourhood or a wooded area to collect branches, greenery and pine cones.

Space
Your mantel may be deep and you can use background and foreground space easier than if you have a shallow mantel top.  Arrange your decorations strategically to show off special objects.  Group smaller pieces together to replicate and balance out a large piece.  Incorporating visual balance and space will result in an eye-catching design that effortlessly flows together.
Dive in and get creative! Try different placements of objects and mix things up a bit.  If at first it doesn't look the way you hoped, try again! Step back every once in awhile and look at your design from different perspectives - sitting, standing, up close and far away.  Most of all have fun and enjoy your new master piece!
| | |
| --- | --- |
| Fireplace Servicing and Safety | Wednesday, November 9, 2016 |
Stay informed, stay safe!
Fireplace servicing and safety information to keep you and your family safe while enjoying your gas fireplace.
While a gas-fired fireplace can be a source of warmth and beauty in your home, it is also a potential danger for serious burns if the proper precautions are not taken.  It is important to know the safety measures to take when your fireplace is on and when it is cooling down after being shut off.  Maintenance and regular servicing of your fireplace can help detect any potential risks or safety concerns with your fireplace before they become a problem.
Maintenance Guidelines & Suggestions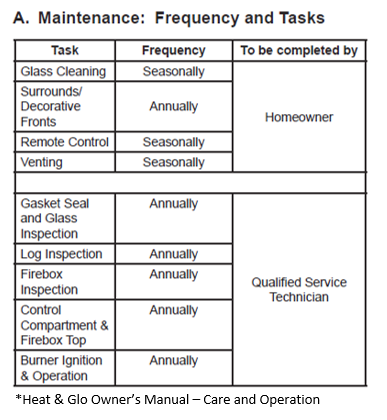 If you are not confident with doing maintenance or cleaning on your own, always call a qualified service technician.  When handling gas fireplaces it is always better to be safe than sorry!
Safety Hints & Tips 
Gas fireplaces can reach extreme temperatures while on, as well as during the cooling down period after being shut off.  Always use extreme caution and never touch the glass of the fireplace. Severe burns can occur.
Door frames, grills and metal surrounds will become hot and could cause burns
After January 1st, 2015 all gas-fired, certified fireplaces will include a safety screen for added protection from the hot glass
Keep family members and guests aware that glass on the fireplace gets hot, and stay hot after it is turned off
Always supervise children and pets around hot surfaces (on or off)
Keep combustible and heat sensitive objects away from the fireplace (clothing, furniture, drapery, candles etc.)
Keep remotes out of reach of children to avoid turning the fireplace on
If you ever have any questions about maintenance or safety procedures for your gas-fired fireplace, consult your owner's manual or call a qualified service technician for help.
Enjoy all the features and benefits of your fireplace in your home!
Stay informed and up-to-date on maintenance and safety.
| | |
| --- | --- |
| Getting to know your Fireplace | Wednesday, November 2, 2016 |
What is that called again?
A guide to getting to know your fireplace: terms, parts and functions
Knowing the basic parts of your fireplace can help you fix a problem quicker, get replacement parts, or update your current fireplace with a new look.  Here are some helpful descriptions of what you can find on most fireplaces.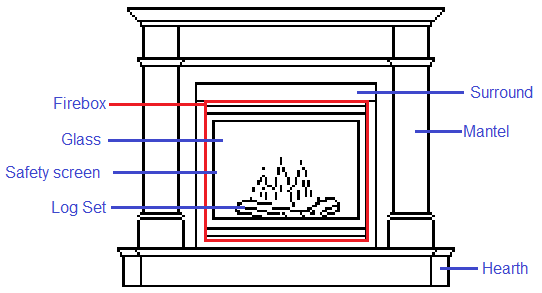 Firebox
Chamber that holds the fire, logs and mechanical components to create the technical fireplace.
Safety Screen
Protective metal screen to keep hands and objects a safe distance away from the fireplace glass.  The screen still gets hot but does not reach the burn threshold that can cause severe burns.  As of January 2015, all certified fireplaces include a fire safety screen.
Log Set
Combination and placement of the logs in the firebox.  The flame does not touch the logs but gives the illusion of logs burning.  Logs can vary in size, shape, "wood" type, and colour. High definition logs make for a realistic "freshly chopped" look.  
Surround
The surround is a decorative as well as functional piece of the fireplace.  Some fireplaces require a non-combustible material to be around the firebox for safety reasons.  The high heat of the fire could potentially damage wood mantels or drywall if not protected by a surround.  Surrounds can be metal, stone, tile or any other material that is non-combustible.  
Mantel
A decorative feature around many fireplaces- a mantel can be traditional, modern, a combination or a custom design.  The mantel encases the fireplace, adding structure and a decorative touch.  Mantels can be made of wood or cast stone, options range from simple beam mantels to elaborate floor to ceiling structures.
Hearth
Can be combined with a mantel for an added decorative feature, or in some designs used alone with the fireplace.  Hearths can be stone, brick, tile or wood and and can raise the firebox above floor level. 
| | |
| --- | --- |
| New, Improved and On Fire! | Monday, September 26, 2016 |
HELLO K-W and FRIENDS!
We've decided to shake off the old saw dust, add a fresh new coat of lacquer and start something new!
We've recently had a makeover but the same Mantels Plus you've trusted with your fireplaces and mantels for 30 years is still here and ready for your next project!
Check out our new logo! Updated, fresh and easy on the eyes!
The retired logo will still be kicking around for a bit - some things, and people,  just don't know when to call it a day!
New website! Take a look around and get inspired.  Fireplaces galore, Mantels for miles and new cabinetry for all your storage needs. Anything you can imagine, we can bring to life for you!
Feel free to always give us a call or drop in to say Hi!
We would love to talk about your next inspiration, project or just turn up the heat in our showroom with our many fireplaces on display!
Contributors
Latest Posts
Archive
2018

November

September

May

2017

2016

December

November

September
Tags
Everything