What is that called again?
A guide to getting to know your fireplace: terms, parts and functions
Knowing the basic parts of your fireplace can help you fix a problem quicker, get replacement parts, or update your current fireplace with a new look.  Here are some helpful descriptions of what you can find on most fireplaces.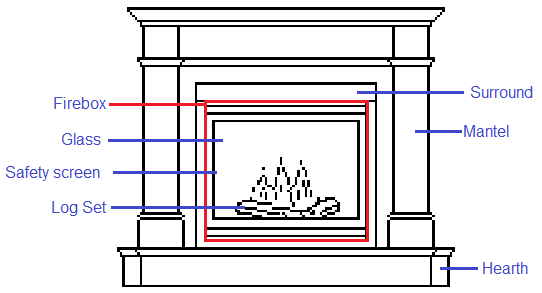 Firebox
Chamber that holds the fire, logs and mechanical components to create the technical fireplace.
Safety Screen
Protective metal screen to keep hands and objects a safe distance away from the fireplace glass.  The screen still gets hot but does not reach the burn threshold that can cause severe burns.  As of January 2015, all certified fireplaces include a fire safety screen.
Log Set
Combination and placement of the logs in the firebox.  The flame does not touch the logs but gives the illusion of logs burning.  Logs can vary in size, shape, "wood" type, and colour. High definition logs make for a realistic "freshly chopped" look.  
Surround
The surround is a decorative as well as functional piece of the fireplace.  Some fireplaces require a non-combustible material to be around the firebox for safety reasons.  The high heat of the fire could potentially damage wood mantels or drywall if not protected by a surround.  Surrounds can be metal, stone, tile or any other material that is non-combustible.  
Mantel
A decorative feature around many fireplaces- a mantel can be traditional, modern, a combination or a custom design.  The mantel encases the fireplace, adding structure and a decorative touch.  Mantels can be made of wood or cast stone, options range from simple beam mantels to elaborate floor to ceiling structures.
Hearth
Can be combined with a mantel for an added decorative feature, or in some designs used alone with the fireplace.  Hearths can be stone, brick, tile or wood and and can raise the firebox above floor level.